Sanmar Shipyards has delivered another powerful low emission tugboat to South American towage giant SAAM Towage, the sixth tug it has delivered to the world's third largest operator in the past two years.
---
Known as Bogacay L while under construction at Sanmar's purpose built modern shipyards in Türkiye, the tug has been renamed SAAM Condor by SAAM Towage. It will operate in Peru.
Like five of the six tugs delivered to SAAM Towage in the past two years, SAAM Condor is based on the exclusive to Sanmar RAmparts 2400SX design from Canadian naval architects Robert Allan Ltd. Like its sisters, the 24m tug has a bollard pull of 70 tonnes.
The sixth tug, which was delivered to SAAM Towage, is a larger 29m Bigacay class ASD Z-drive based on the exclusive to Sanmar RAstar 2900SX design from Robert Allan Ltd. renamed Mataquito II by its new owners, it will operate in Chile.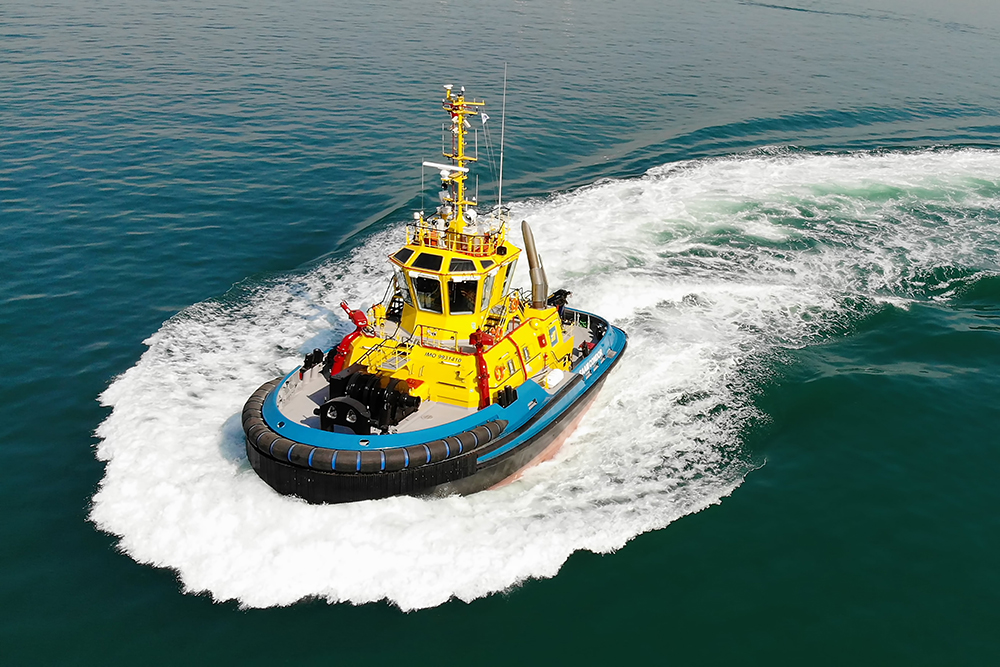 SAAM Condor has been designed and built with operational efficiency in mind as part of Sanmar's ongoing initiative to increase sustainability in the tug and towage industry and to reduce and eventually eliminate any negative impact on the environment.
SAAM Condor's four sister tugs are Halcon lll, delivered to Chile in 2022, Albatros and SAAM Palenque delivered to Peru and Panama in 2021 and SAAM Valparaiso delivered to Panama in 2020.
The Bogacay class tugs from Sanmar have been widely acclaimed for their performance, particularly for their manoeuvring, sea-keeping and stability. Designed with low-manning in mind, they also have a high standard of machinery automation which also contributes to their overall efficiency.
Sanmar's stated aim is to maintain its position as the greenest shipyard in Türkiye and to minimize or eliminate negative impacts on the environment during all of its operations and projects.
Ruchan Civgin, Commercial Director of Sanmar Shipyards, said: "SAAM Towage is the third largest tugboat operator in the world and we are delighted that it has chosen us to provide the powerful and technologically-advanced tugs it needs to carry out its work efficiently and with the minimal amount of environmental impact.
Taking delivery of six tugs in just two years is a major investment by SAAM Towage and we at Sanmar are proud to have stepped up to the mark in helping them achieve their goal of expanding their fleet with powerful, yet sustainable and environmentally aware modern tugs.
Sustainability is, quite rightly, an increasingly important factor when operators are deciding where to place their orders. With a third purpose built state-of-the-art shipyard coming on board soon, we at Sanmar are confident that we can continue to lead the way to a low and no emission future for our industry."
---